Hiring employees solely for the task of managing printing requirements don't make sense for most companies, especially from a financial perspective. For this reason, many businesses outsource their printing needs to print suppliers in an attempt to cut costs and save time. However, when doing this, many don't select printers from a strategic point of view and end up paying more than they should be for low-quality material.
---
Need flyers and banners for your latest marketing campaign? Run out of office stationery? A business enterprise has various print requirements which cannot be managed in-house by every company. This makes outsourced printing solutions the best way to meet your printing needs.
---
I'm Mick McFarlane, proud owner of MLB Print Management Inc.
I look forward to sharing my story. I hope that you will enjoy getting to know me better.
---
Any business or organization needs to constantly market itself to others in order to attract customers and collaborations. With marketing playing an important role in your business's future growth, it is imperative you use high-quality print marketing material to promote a professional appearance to others.
---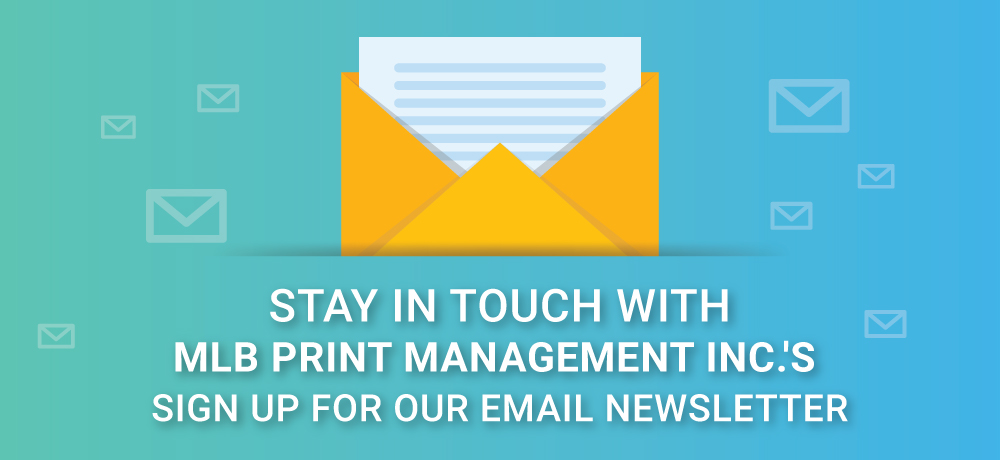 Our email newsletter is a one-stop resource for relevant news and content about MLB Print Management Inc. and our printing services.
---
The MLB Print Management Inc. team wishes you and your family a wonderful holiday season! May the New Year be filled with lots of joy, health, and prosperity!
---
Thanks for stopping by our blog. If you're looking for more information about MLB Print Management, you've come to the right place.
---
We are delighted to announce the launch of our new website!
The goal of our new website is to provide our existing and prospective customers a simple yet interactive view of us and the services we offer. Stay tuned on to our blog posts for refreshing new ideas! You can also sign up here to keep up with all the exciting stuff!
For any enquiries and feedback, please write to us at mick@mlbprint.ca or call us at 416-886-3300
---
Are you considering printing Postcards for your business? Follow these steps to create postcards that have real impact. MLB Prints thousands of postcards every month for clients ranging from restaurants, to real estate agents, charities and other small businesses. Now more than ever, full colour postcards have become an economical way to promote events, your cause or your business. After printing all those postcards we thought we'd give you some pointers to help you design a great postcard for your business. Have a clear objective When designing your postcards you should have a clear understanding of the purpose they will serve. Postcards have……
---
Planning a Cool Event? Signs for one of the "coolest" events.... This year MLB had the pleasure of working with the Toronto Polar Bear Club (www.torontopolarbear.com) an annual event that this year raised almost $80,000 for Habitat's home building efforts in the GTA This year was the tenth anniversary of the dip - they were expecting around 600 crazy people to jump into lake Ontario on new years day and the organizers really wanted to make a great impression with the attendees. Because some of the sponsorships weren't committed until fairly close to the date and because the event was happening on January……
---