Why Choose MLB Print Management?
Benefit from our printing experience
The Printing Experts at MLB Print Management benefit your organization with hands on and practical experience in the printing trade. For MLB Print Management President Mick, it started with an apprenticeship in the offset printing trade in Australia and has evolved into over 20 years of experience in the print industry. Working with MLB Print Management is like having a high value printing consultant on staff.
We manage your printing so you don't have to
It is easy to lose valuable time and resources trying to find a printer and working with them to get your printing done. That's why it makes good business sense to let MLB do the work for you.
MLB Print Management manages the entire print process for you including:
Sourcing the right print supplier for the job
Obtaining quotes from trusted print suppliers and securing a competitive price
Providing graphics files and ensuring they translate to the printed product as intended
Monitoring quality and adherence to colour standards
Finished product quality checks
Delivery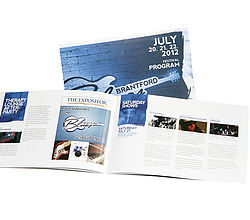 ---
Benefit from our printing industry knowledge
MLB Print Management understands printing far better than the copy center down the street and we understand the kind of print shop it takes to produce each job the right way. We invest the time upfront to understand the strengths of each of our suppliers and the unique printed products that they produce better or more efficiently than their competitors.
CB Richard Ellis chose MLB Print Management to facilitate the printing of direct marketing postcards critical to promoting their priority listings.​Our 24 hour turnaround on these time-sensitive marketing tools allows the firm to target potential clients quickly resulting in faster occupancy and more satisfied clients.
Every time you work with MLB Print management we assess your print job, make recommendations about the final product and then we determine which suppliers are best suited for the job.
Once we've determined whose printing capabilities are best for that job, MLB Print Management helps you to keep your costs low by finally selecting the supplier that provides the most competitive price within your timeline and specifications and the size of the job.
---
How we assess our printing suppliers
MLB Print Management carefully assess each of our print suppliers based on the experience we have in the commercial printing field.
We initially visit each supplier to understand their equipment, the processes they use and to assess the quality of the work they produce to ensure they meet our high standards. Once a supplier has been selected we regularly visit our supplier locations to tour the production facilities and learn about the latest printing technologies, printing materials and printing techniques that each one uses or has developed. Every site visit at a supplier introduces us to new product categories and printing methods.
By keeping in close contact with our suppliers we are able to suggest creative print solutions that other printing companies may not even be aware of.
---
Benefit from Expertise
Printing possibilities are LIMITLESS. Don't restrict your brands creative output based on your own print knowledge, trust an expert.
---
Personal Attention
Our vast printing industry experience enables us to present a variety of Printing Solutions. We meet with you personally to determine your precise expectations and needs. We will provide paper and color swatch samples prior to proceeding with your project when needed, and we'll personally inspect your job prior to delivery to ensure complete accuracy. Customer satisfaction is our #1 priority and we'll stand behind and guarantee our printed products.​
---
Our Range Of Printing Products Include:
Office Stationery | Printed Marketing Materials | Large Format Printing | Promotional Items | Packaging | Labels/Decals | Trade Show Displays
MLB Print Management Inc. - Print Shop in Toronto, ON offers Printing Services to clients across Downtown Toronto, Leslieville, East Toronto, The Beaches, East Danforth, Financial District and surrounding areas.